Collection: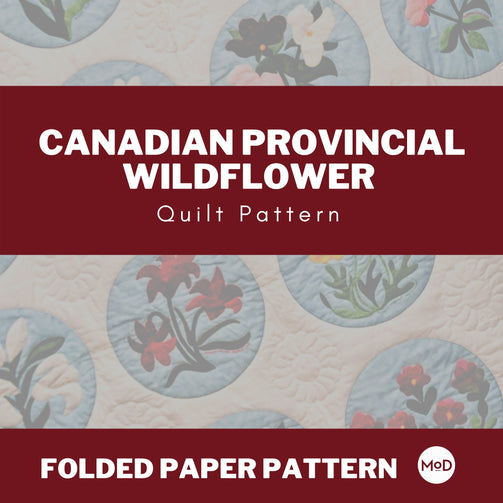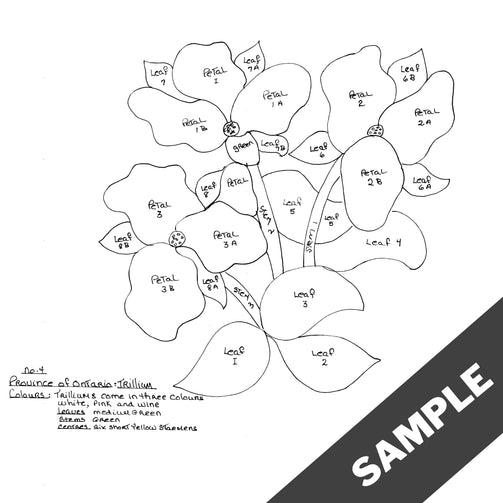 Collection:
Canadian Provincial Wildflower Quilt – Folded Paper Pattern
Canadian Provincial Wildflower Quilt – Folded Paper Pattern
Regular price

Sale price

$50.00
This is a folded paper pattern for the Canadian Provincial Wildflower Quilt Design. It is shipped in a bubble mailer and is subject to shipping fees (calculated at checkout).
If you wish to purchase the digital download (print it yourself) version of this quilt design, click here.
Designed by Sandra Small Proudfoot for the moderately experienced quilter, this pattern first appeared in the August 1985 issue of Canadian Living Magazine under the name "Bower of Flowers." At that time it consisted of 12 patterns representing the native plants specifically designated as provincial and territorial flowers. In the intervening years the Purple Saxifrage for the Nunavut Territory was added, and Quebec changed its flower to the Blue Flag. Patterns for all 13 current, official floral emblems are included in this digital download.
Note: The Purple Saxifrage is the correct territorial flower for Nunavut, it is included in as a separate sheet of paper in the package. The main pattern includes the floral design for the Arctic Poppy, its use is the individual maker's choice. It was once thought the Arctic Poppy may become the official flower of the Nunavut Territory, which is why it is included on the main quilt pattern.
Included in Your Purchase:
1. Instructions for Sizing, Quilting, Embroidery, etc.

2. Canadian Provincial Wildflower Quilt Pattern
3. Nunavut Purple Saxifrage Floral Design

Copyright © Museum of Dufferin, 2015.
Copyright © Sandra Small Proudfoot, 1985. *Sandra Proudfoot has generously assigned the copyright for this quilt to the MoD in support of the museum's textile collection.